Towards Inclusion:
Supporting Positive Behaviour in Manitoba Classrooms
This support document describes both proactive and reactive procedures and practices
associated with positive behaviour support for use in the Manitoba classroom context.
These procedures and practices are presented as key elements that teachers have found
useful to increase success rates and reduce negative behaviour, thereby enhancing their
ability to deliver effective instruction to all students.
This document and specific sections are available for download as PDF

files.
COMPLETE DOCUMENT (2.56 MB)
Preface (166 KB)
Key Element One: Positive relationships (265 KB)
Key Element Two: Classroom Organization (201 KB)
Key Element Three: Differentiated Instruction (312 KB)
Key Element Four: Classroom Behavioural Expectations (133KB)
Key Element Five: Social Skills Instruction (323 KB)
Key Element Six: Positive Reinforcement (201 KB)
Key Element Seven: Fair Predictable Consequences (245 KB)
Key Element Eight: Gathering Data to Understand Student Behaviour (142 KB)
Key Element Nine: Planning for Behavioural
Changes (1.37 MB)
Tool Box (257 KB)
References (127 KB)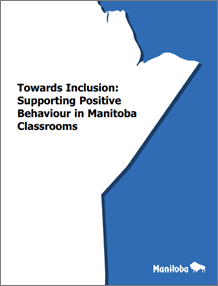 For further information regarding Towards Inclusion: Supporting Positive Behaviour in Manitoba Classrooms, please contact:
General Enquiries
Program and Student Services
Manitoba Education
Telephone: 204-945-7907
Toll Free in Manitoba: 1-800-282-8069, ext. 7907
Email: pssbinfo@gov.mb.ca