Professional Learning
This area of the website is designed to provide educators with professional learning tools and resources that highlight promising practice and research in Kindergarten to Grade 12 education.

Maple Brochure (

669 KB)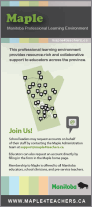 Maple the Manitoba Professional Learning Environment is a new Manitoba Education service: an online educational community that provides educators access to resources, professional learning services and opportunities for collaboration and interaction. Maple is a network for teachers and other education professionals, a place for exchanging ideas, offering and receiving support. Maple is also an official channel for communicating Manitoba Education plans, initiatives, programs and curricula to educators and school leaders. Membership to Maple is offered to all Manitoba educators, school clinicians and pre-service teachers. Join us!
---
Conferences and Workshops
Workshop Registration System
The Workshop Registration System is a searchable schedule of regional inservice sessions offered by Manitoba Education and Training for educators within English and Senior Years Technology Education (English) Programs. Online registration is available for your convenience. Detailed instructions on how to use the site are offered as well as answers to frequently asked questions.
Event Calendar
Search for and find details about educational events, as well as submit events of interest to the educational community in Manitoba.
Manitoba Teachers' Society Special Area Groups of Educators
The Special Area Groups affiliated with The Manitoba Teachers' Society link a network of professional educators and offer professional learning opportunities in the form of conferences and workshops.
Online Professional Learning Communities Blackboard
If you belong to a Manitoba Online Learning Community, use this entry page to logon.
Student Services Summer Institute
The Manitoba Education and Training Students Services Unit is pleased to offer the Summer Institute. The Summer Institute provides a selection of workshops in Winnipeg in August.
French Immersion Conferences – Archive
French Immersion Students in Manitoba: Proud, Engaged, Global Citizens (2010-2011)
Evolving Perspectives in Immersion Education in the Global Village (2008-2009)

---
Awards, Bursaries and Grants
Manitoba's Excellence in Education Awards
The awards aim to recognize the work of Manitoba's outstanding educators whose exemplary contributions enhance student learning and achievement.
Manitoba Grants for Education for Sustainable Development
Manitoba Education and Training and Manitoba Hydro continue to offer Education for Sustainable Development (ESD) Grants to promote sustainability in classrooms. Manitoba Education and Training and Manitoba Hydro want to support schools in which educators work together to plan and teach ESD. The grants will provide up to $2000 to cover expenses, such as teacher release time, professional development, and teaching/learning resources for sustainability education. Manitoba Education and Training staff will also provide grant recipients with planning support.
Bursaries for Teachers
Are you a Basic French, French Immersion or prospective teacher of French and want to improve your language and methodology skills? The Bureau de l'éducation française has bursaries for you! Programs for teachers are offered in Winnipeg and the Collège universitaire de Saint-Boniface or outside the province during the spring and summer months.
French Second Language Revitalization Program
Any school or school division wishing to revitalize French Second Language instruction and any organization that works directly with teachers or a non-profit organization whose primary goal is to promote French as a Second Language can apply for this grant. Applications may include, among others, professional development for teachers in French, cultural activities in French for students etc.
---
Professional Certification
A valid Manitoba teaching certificate must be held in order to work as professional school personnel in Manitoba. Professional school personnel include the classroom teacher, clinician, vocational teacher, special education coordinator, level 1 and level 2 administrators.

---
Resources
Manitoba Education and Training Libraries
Manitoba Curriculum Support Centre: provides Manitoba educators with curriculum implementation support, educational research and professional development materials.
Alternate Format Services (AFS): supports the education of students who are print handicapped (Blind/Visually Impaired, Physically Disabled and Learning Disabled) by providing books in alternate formats (audiotape, braille, large print, and electronic text).
La Direction des ressources éducatives françaises (DREF): provides print and electronic educational resources to support Manitoba Kindergarten to Grade 12 educators in the French, French-Immersion and Basic French programs.
Manitoba Learning Resource Centre
A Manitoba Special Operating Agency (SOA) provides Manitoba schools with educational learning resources and related products to support teaching and learning and ensures the availability of all Department recommended learning resources.
---
Teacher Exchange Program
The Professional Certification Unit administers the teacher exchange program in Manitoba on behalf of Manitoba Education and remains the contact body for all inquiries respecting teacher exchange. Manitoba Teacher Exchange opportunities are available with Australia, The United Kingdom, The United States, The Federal Republic of Germany (teachers must be fluent in the language), and other Canadian Provinces.

---