Education and Early Childhood Learning

Learning Community for Administrators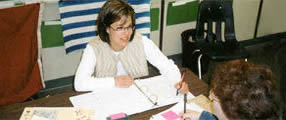 As leaders for learning, multilevel administrators affect the collaborative culture of the learning community, creating a vision for its success.
Administrators understand and value the theoretical underpinnings for best practices in the multilevel classroom, provide supports for multilevel classroom teachers, and are committed to ongoing communication with parents.

(954 KB)
What can you do to support the multilevel learning community?
Multilevel classroom administrators can provide encouragement and support in a variety of ways.
Classroom visits provide learners and teachers with support and feedback.
Collaborative classroom set-up and decision making are important, regardless of whether a multilevel classroom is being created for pedagogical or demographic reasons.
Release time for teachers to visit existing multilevel classrooms and discuss their plans with exemplary teachers helps meet the unique challenges of multilevel programming. (943 KB) - (1.10 MB)
Team teaching cross-grade integrated units eases a transition into multilevel classrooms.
Maintaining a core group of students who were in the teachers' classes the previous year for a new multilevel class contributes to ease of transition.
Whole-school decision making and dialogue with all educators help develop a common understanding of the multilevel classroom, support decisions about timetables, rotate topics in the subject areas, and set plans for a continuous curriculum across the school. (1.22 MB)
Scheduling physical education and music classes simultaneously provides time for classroom teachers to collaborate.
Scheduling large blocks of time within the school day supports class workshops.
Offering professional learning opportunities for teachers and specialists who will be working in the multilevel classroom, and for all other staff, ensures that other teachers recognize and support the needs and goals of multilevel programming.
Debriefing time is important for multilevel teachers to share experiences.
Parent orientation to multilevel learning may include arranging a spring visit to an existing multilevel classroom before a new student joins a multilevel class in the fall.
Educational information and communication explaining the advantages of multilevel learning through handouts or presentations may answer parents' concerns and questions.