Education and Early Childhood Learning
Assessment and Evaluation
Report Card Templates
The following templates are available for download as PDF

files. These are not for direct use but rather to illustrate the format and content. The templates include certain elements that require local modification.
The Grades 9 to 12 report card templates have Completion of Credit Requirements for Graduation charts for the English, French Immersion and Français programs. Please see the graduation charts for the respective Technology Education programs.

Information for Parents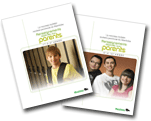 Parent Brochures
Also available in other languages
Grades 1 to 8 (

1.75 MB)
Grades 9 to 12 (

2.15 MB)
Policies and Guidelines
Manitoba Provincial Report Card Policy and Guidelines

This document provides guidelines and policy primarily for educators, but also for others, with respect to usage of the report card.
Contact

Provincial Assessment Program

Email: assesseval@gov.mb.ca
---