Education and Early Childhood Learning
Assessment and Evaluation

The Report Card Opinions vs. Facts (

65 KB) sheet addresses some misconceptions about departmental expectations regarding assessment and grading by referencing information from the Manitoba Provincial Report Card Policy and Guidelines.

---
Provincial Parent-Friendly Report Card Initiative
A new section on Assessment and Grading has been added, including resources for mathematics grading (Grades 1 to 8) and frequently asked questions.
In September 2010, Premier Greg Selinger announced the introduction of a parent-friendly report card to ensure that parents get the information they need to be full partners in their children's education. The new report card is written in plain language, allowing teachers to enrich the reporting with personalized information about each student. The provincial report card will help to enhance the quality of education in Manitoba and to build strong partnerships amongst students, teachers and parents.
Implementation
The 2012-13 school year was a voluntary implementation year for school divisions. Mandatory implementation for school divisions begins in the 2013-14 school year.
Letter – Manitoba Provincial Report Card—Fall 2013 Implementation (

331 KB)
Pilot Testing and Consultation
The new report card was developed through consultation with parents and educators. An advisory committee with members consisting of the Manitoba Association of Parent Councils (MAPC), the Manitoba Association of School Business Officials (MASBO), the Manitoba Association of School Superintendents (MASS), the Manitoba Teachers' Society (MTS), and the Manitoba School Boards Association (MSBA) was established for ongoing consultation and feedback.
The new report card was pilot tested in the 2011-2012 school year with feedback from parents teachers used to make revisions.
Report Card Templates
The following templates are available for download as PDF

files. These are not for direct use but rather to illustrate the format and content. The templates include certain elements that require local modification.
The Grades 9 to 12 report card templates have Completion of Credit Requirements for Graduation charts for the English, French Immersion and Français programs. Please see the graduation charts for the respective Technology Education programs.

Information for Parents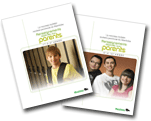 Parent Brochures
Also available in other languages
Grades 1 to 8 (

1.75 MB)
Grades 9 to 12 (

2.15 MB)
Policies and Guidelines
Manitoba Provincial Report Card Policy and Guidelines (Revised - October 2021 - Update to the Arts Education Subject Categories)
(Fall 2013 Implementation)
This document provides guidelines and policy primarily for educators, but also for others, with respect to usage of the report card.
Contact

Provincial Assessment Program

Email: assesseval@gov.mb.ca
---