Curriculum/Subjects
---


Maple Brochure (

669 KB)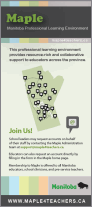 Maple the Manitoba Professional Learning Environment is a new Manitoba Education service: an online educational community that provides educators access to resources, professional learning services and opportunities for collaboration and interaction. Maple is a network for teachers and other education professionals, a place for exchanging ideas, offering and receiving support. Maple is also an official channel for communicating Manitoba Education plans, initiatives, programs and curricula to educators and school leaders. Membership to Maple is offered to all Manitoba educators, school clinicians and pre-service teachers. Join us!

---
Contract Positions Available

The Instruction, Curriculum and Assessment Branch (ICAB) of Manitoba Education is soliciting applications for the following contract positions.
Workshop Presenter
Curriculum Writer
Curriculum Reviewer
Independent Study Option Course Writer
Independent Study Option Course Reviewer
Independent Study Option Tutor Marker
Web-Based Course Writer
Web-Based Course Reviewer
Resource Developer
Support Document Reviewer
Researcher
If you are interested in obtaining a contract for any of the services outlined above, please complete the Expression of Interest Form (

95 KB) and email it to Emil Easter or fax the completed form to 204-948-3668.
ICAB requires potential candidates to complete an Expression of Interest Form in order to be considered for any contracts.
---