Aboriginal Education
National Aboriginal Day – June 21, 2017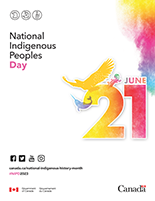 Celebrating Culture
National Aboriginal Day is a day to celebrate the past and present contributions of First Nations, Métis, and Inuit peoples to Canada.
Poster 2017 (

2.56 MB)
Poster 2016 (

1.24 MB)
Poster 2015 (

1.06 MB)
Poster 2014 (

921 KB)
Poster 2013 (

1.24 MB)
---
The following area links provide more detailed information on particular strategies and initiatives within the Province of Manitoba.
Bilingual Education and Programming in Manitoba – Questions and Answers
This support document provides information on Bilingual education and programming in Manitoba, including legislation, policies, roles and responsibilities, and curriculum development and implementation, in the form of questions and answers.
Grade 12 Current Topics in First Nations, Métis and Inuit Studies: A Foundation for Implementation
This document supports the empowerment of students through the exploration of the histories, traditions, cultures, worldviews, and contemporary issues of Indigenous peoples in Canada and worldwide.
From Apology to Reconciliation: Residential School Survivors—A Guide for Grades 9 and 11 Social Studies Teachers in Manitoba
This document was developed in response to the Government of Canada's formal apology to Aboriginal people who attended residential schools. The project was created to help Manitoba students in Grades 9 and 11 understand the history of the residential school experience, its influence on contemporary Canada, and our responsibilities as Canadian citizens.
Kindergarten to Grade 12 Aboriginal Languages and Cultures: Manitoba Curriculum Framework of Outcomes
This document is intended to provide the basis for Kindergarten to Grade 12 Aboriginal language programming in Manitoba.
Aboriginal Education Directorate
The Aboriginal Education Directorate provides leadership and co-ordination for departmental initiatives in Aboriginal education and training as part of the Government of Manitoba Department of Education and Manitoba Advanced Education and Literacy.
Aboriginal Languages in Manitoba
Consultation Reports to assist in planning for the development of a provincial curriculum in Aboriginal Languages.
Aboriginal Perspectives
Aboriginal perspectives apply to learning experiences for all students. Each subject area will address the perspectives and accomplishments of Aboriginal people.
Aboriginal Studies
The study of Aboriginal people focuses on an understanding of Aboriginal philosophies and creates an awareness of issues and events that relate to Aboriginal history.
WNCP First Nations, Métis and Inuit
WNCP Common Curriculum Framework for First Nations, Métis and Inuit programs provides a framework for further development in Aboriginal languages and culture programs.
---