Education and Early Childhood Learning

Posters
Suggested Actions for Reorienting Teacher Education in The Faculties of Education in Manitoba to Address Sustainability (

1.13 MB)
---
A Declaration for Sustainable Living Posters
These posters were created to inspire and encourage teachers and students in Manitoba classrooms to learn about, and to take action related to, sustainable development. They were designed to promote thoughtful discussion and informed decision making, and to encourage students to live a more conscious and conscientious lifestyle that contributes to quality of life for all, locally, nationally and globally. These posters are meant to be used as a starting point for learning about sustainable development and as a focal point for long-term exploration of sustainability issues and solutions.
Kindergarten to Grade 4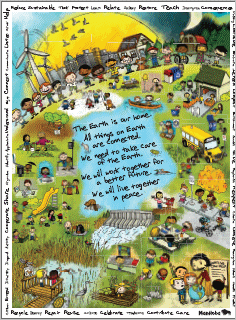 Poster
(

2.63 MB)
Poster Activites:
---
Grades 5 to 12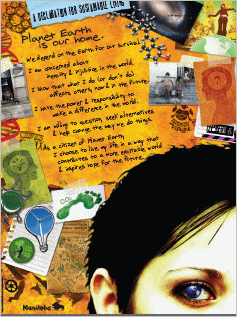 Printing Instructions
These posters are available for viewing and printing (colour or black & white) as a PDF

files.

To print poster in letter size, set the Page Scaling in your Print dialog box to Fit to Printable Area, check the Auto-Rotate and Center box and uncheck the Choose Paper Source by PDF page size.


---