Welcome!
Welcome to the Education for Sustainable Development (ESD) website. The purpose of this site is to assist Manitoba teachers to integrate sustainability topics/issues/approaches into their classroom activities. ESD involves preparing students to live sustainably and to establish life-long sustainable development practices.
The ESD initiative in Manitoba is linked to a project of the United Nations Educational, Scientific and Cultural Organization (UNESCO).
Education for Sustainable Development involves incorporating key themes of sustainable development – such as poverty alleviation, human rights, health and environmental protection, climate change – into the education system. ESD is a complex and evolving concept and requires learning about key themes from a social, cultural, environmental and economic perspective and explores how those factors are inter-related and inter-dependent. The Venn diagram below represents the inter-relationship of the themes.
Encouraging every school in Manitoba
to have an ESD school plan by 2019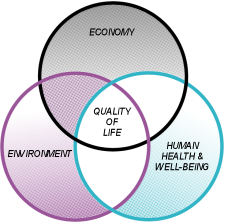 ---
Vision
Students will become informed and responsible decision-makers, playing active roles as citizens of Canada and the world, and will contribute to social, environmental, and economic well-being, and an equitable quality of life for all, now and in the future.
Education for Sustainable Development in Manitoba Education and Training (

150 KB) – This is the story of Education for Sustainable Development in Manitoba from 2000 up to the end of the Decade for ESD (2005 to 2014).
---