Education and Early Childhood Learning
School Partnerships
A Guide for Parents, Schools and Communities
School Partnerships: A Guide for Parents, Schools, and Communities is a collaborative response to a request to update Advisory Councils for School Leadership: A Handbook for Parents, Teachers, and Administrators (1996). Relationships between schools, families, and communities have evolved greatly since 1996. Today, Manitoba schools welcome family and community representation for effective school and division planning. Families, schools, and communities that work and plan together meet the shared goal of improving education for Manitoba students.
This document is intended as a resource guide to assist both formal and informal school advisory groups and committees in their roles as partners in supporting student success at school.
This document and specific sections are available for download as PDF files

.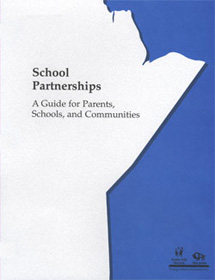 Full Document (975 KB)
Specific Sections:
Acknowledgements and Content (92 KB)
Section 1: School Partnerships (92 KB)
Section 2: School Partnerships Councils (89 KB)
Section 3: Toolbox for Leaders (217 KB)
Appendix A: Parent Involvement with the School (13 KB)
Appendix B: School Partnership: Shared Roles and Responsibilities (19 KB)
Appendix C: School Administration: Rights and Responsibilities of Parents (13 KB)
Appendix D: Advisory Councils for School Leadership Regulation (15 KB)
Appendix E: Websites of Educational Organizations in Manitoba (9 KB)
Glossary (11 KB)
References (12 KB)
---
For further information regarding School Partnerships: A Guide for Parents, Schools and Communities, please contact:
Donna Smith
Coordinator
Curriculum Development Unit
Learning and Outcomes Branch
Manitoba Education and Early Childhood Learning
1577 Dublin Avenue
Winnipeg, Manitoba R3E 3J5
Phone: 204-945-4324
Toll Free: 1-800-282-8069, ext. 4324
Email: donna.smith@gov.mb.ca