Education and Early Childhood Learning

Welcome to the Science Website!
The development of increasingly scientifically literate individuals is one of the primary concerns of a 21st century approach to K-12 science education. Within that vision can be included skills such as effectively interpreting technical information, participation in the solution of problems that appeal to new scientific understandings, making informed decisions in relation to issues and trends in a technological society, better adapting to and accommodating rapid change, and welcoming the creation of new knowledge. Science education is a particularly key element in developing these general goals and skill sets for scientific literacy and working toward building a strong future for Canada's young people.
---
What's New!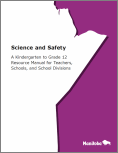 Manitoba Education and Early Childhood Learning is pleased to present the document Science and Safety: A Kindergarten to Grade 12 Resource Manual for Teachers, Schools, and School Divisions. This document provides important updates and is a current, comprehensive guide to safety in the science classroom. It can serve to act as a complement to the 1997 Science Safety support document currently in wide use among Manitoba science educators.
---