Education and Early Childhood Learning
Science
Safety Resources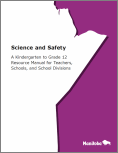 Manitoba Education presents Science and Safety: A Kindergarten to Grade 12 Resource Manual for Teachers, Schools, and School Divisions. This document provides important updates and is a current, comprehensive guide to safety in the science classroom. It can serve to act as a complement to the 1997 Science Safety support document currently in wide use among Manitoba science educators.
The principal goal of this K-12 science and safety resource is to bring together in one place information often needed by science teachers, administrators, school support staff and division planners to assist in making clear, sound decisions on matters related to safety in the science classroom or laboratory environment. Science and Safety supports planning and appropriate actions through the provision of Manitoba and federal-level safety legislation and standards, a review of common safety hazards, and procedures for minimizing or eliminating altogether hazards that are a natural part of the delivery of authentic and meaningful science learning experiences.
Many consultations took place with key workplace safety and health specialists as this resource document was in preparation, and their contributions and those of many experienced science teachers have come together in what comprises an informative and accessible source which accesses some of the best and current thinking available in the area of safety in science. This is a safety resource document that is designed to remain visible to all, accessible to all, and used on a constant basis in any and all facilities in schools where science education programming involves the interaction of materials, students, teachers, and staff.
Science and Safety: A Kindergarten to Grade 12 Resource Manual for Teachers, Schools, and School Divisions includes sections on:
Starting Points for Planning and Policy Setting
Implementing Safety in the Science Classroom or Laboratory
Emergency Preparedness and Response
Facility Design and Safety Equipment
Workplace Hazardous Materials Information System (WHMIS)
Biological Hazards
Note: Bookmark and re-visit this page often, as new teacher resources and items of interest related to science and safety will be added.
---
Science Safety: A Kindergarten to Senior 4 Resource Manual for Teachers, Schools, and School Divisions (1997) - released in April 1997. The 2014 update to this document provides an important complement to this earlier resource.
Senior Years Science Teachers' Handbook: A Teaching Resource (1997) - released in November 1997. This handbook was produced to support Grades 7/8 and Senior Years science teachers as they bridge the gap between traditional and new approaches to the teaching of science. It is meant as a starting point for the development of alternative perspectives and strategies.
---