Adult Learning and Literacy
Council of the Federation Literacy Award Manitoba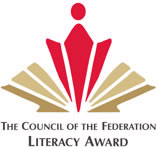 In July 2004 Canada's Premiers decided to create a special annual award to recognize achievements in literacy across the country. The Council of the Federation (COF) Literacy Award acknowledges outstanding achievement, innovative practice and excellence in literacy. Each year COF Literacy Medallions are awarded, one in each province and territory.
The COF Literacy Award for Manitoba recognizes achievement in adult literacy.
The 2018 award recipient for Manitoba is Ms. Julie Black of Winnipeg, Manitoba.
Call for Nominations: 2019 COF Literacy Award
The 2019 COF Literacy Award Call for Nominations is now underway. Please use the following documents to submit nominations by May 24, 2019.
Visit the Council of Federation website.
---