Music Month
Celebrating Music in Manitoba Schools, May 2017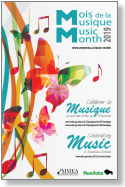 Music surrounds our daily activities from infancy to adulthood, and contributes to our lives on personal, social, and creative levels. While music is an important part of the Manitoba school curriculum throughout the year, its role in education will be highlighted in May 2017 through school and community events that celebrate the skills and accomplishments of young musicians throughout the province.
Poster
(

1.17 MB)
Proclamation
(

310 KB)
Music Month Grants 2017
Schools are invited to apply for grants in support of 2017 school Music Month projects. The intent of the program is to help schools engage professional musicians to work with teachers and students on projects that help students create and share their music ideas and work. Successful schools will receive grants of up to $500.00 to help cover musicians' fees, contingent upon the availability of funding. Grants are not intended for costs associated with transportation, lodging, and/or materials or instruments.
Selection Criteria:
design a music learning experience in which students generate, develop, refine, and share their ideas for music creation;
center the learning experience on the Creative Expression (Kindergarten to Grade 8) or Creating (Grades 9 to12) essential learning areas of the Kindergarten to Grade 12 music curriculum framework documents;
collaborate with a professional musician or musicians to support curricular learning in music creation;
share music ideas and work during the 2016-2017 school year in the school or community;
complete the Music Month Grant Application Form and submit it by Friday, October 28, 2016.
Application Form (

104 KB)
Deadline: Please submit the completed application form by Friday, October 28, 2016.
2017 Noon-Hour Music Month Concert Series at the Manitoba Legislative Building
School groups, directed and accompanied by their teachers, are invited to apply to give 10 minute performances at the Manitoba Legislative Building during the noon hour on Music Monday, May 1 and on Wednesdays May 10 (French concert), 17, and 24, 2017.
Please note:
Five groups will each perform for 10 minutes within each 60-minute concert.
The May 10, 2017 concert will be dedicated to Français and French Immersion schools.
Groups will be required to stay for the duration of the entire concert.
Performances will take place at the grand staircase in the Manitoba Legislative Building. Acoustics are "lively."
All Kindergarten to Grade 12 public, independent, and First Nations schools are eligible to apply.
Space is limited. The organizers cannot guarantee that all applications will be accepted. Preference will be given to schools who have not previously applied for concert performances.
Application Form (

173 KB)
Deadline: Please submit the completed application form by Friday, January 20, 2017.

"Celebrating Music in Manitoba Schools Month Posters"
2005 to 2017