Contents on this Page
Pupil Transportation
School Bus Safety/Ridership Education
School Bus Safety Resources
Online Resources for Manitoba Educators (previously known as the Manitoba Education Library) houses a variety of school bus safety resources. 
---
School Bus Safety Week
The third full week of October is observed as School Bus Safety Week in Manitoba. Manitoba Education and Training bases its annual theme on the National Association of Pupil Transportation (NAPT) poster contest theme. Typically, this theme is directed at a specific group (e.g. students; the motoring public). The week is an opportunity for students to receive school bus ridership training; for reminding parents and the motoring public to be particularly careful around school bus vehicles; and, for school divisions to examine their pupil transportation practices. Although the school bus safety week theme changes annually, one message remains constant – be aware and be safe around the school bus.
NAPT's School Bus Safety Week poster themes for the next two years include:
2019 Red Lights Mean STOP!
2020 Can't Touch This - The Danger Zone!
Over the years, PTU has produced materials that reflect school bus safety themes. Materials have been geared primarily to two main audiences - students and parents/the motoring public. The links below provide access to this information.
Teacher Resource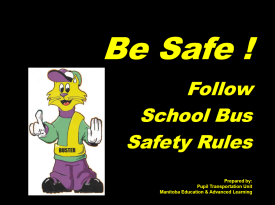 School Bus Safety Presentation
PowerPoint Version (

1.96 MB)
PDF Version (

861 KB)
To download the PowerPoint Presentation to your computer right-click and select Save Target As... from the pop-up menu. Select the folder where you would like to place the file.
For Students
For Parents/the Motoring Public
Contact PTU in Winnipeg for more information.
An additional supplier of school bus safety resources is Mission Nutrition, a Minneapolis-based company that stocks school bus safety resources.

---
School Bus Ridership Education
In the 1990's, the United States' National Highway Traffic Safety Administration (NHTSA) developed a School Bus Pedestrian Safety Training Program consisting of guides and videos to assist grades K-6 teachers teach school bus pedestrian safety.
In 1994, Manitoba Education used this model to develop its own program - A Teacher Resource for School Bus Ridership Education - Grades K-4. The program consists of the teacher resource manual and various support materials and videos.
To obtain further information on this program, Contact PTU.

---