Education and Early Childhood Learning
Contents on this Page
Pupil Transportation
Industry News
Amendment to The Highway Traffic Act
An amendment to The Highway Traffic Act (HTA) was passed on November 5, 2015. The HTA revision now mirrors that of School Buses Regulation 465/88R (SBR), Section 15(j) as it pertains to school bus stopping requirements at railway crossings.
While this amendment has no implications for Manitoba's public school divisions (as they currently follow SBR criteria), it may impact the methods used by Independent Schools and First Nation Education Authorities currently not following the SBR.
The HTA amendment reads as follows:
134(3) is replaced with the following:
Stopping at uncontrolled railway crossings
134(3) Without limiting the application of subsection (2), a driver must also stop before proceeding across

a controlled or uncontrolled railway crossing if the driver is driving a school bus, whether or not it is carrying passengers; or
an uncontrolled railway crossing if the driver is driving

a bus carrying passengers for compensation, or
a vehicle designed or used to carry flammable liquid or gas, whether or not it is empty.
134(5) is replaced with the following:
Required stopping distances – certain buses and trucks
134(5) In a case mentioned in subsection (2) or clause (3)(b), the driver of a vehicle mentioned in subclause (3)(b)(i) or (ii) must stop the vehicle
not less than 5 m from the rail of the crossing nearest the vehicle's front if the crossing is in a restricted speed area; or
not less than 15 m from the rail of the crossing nearest the vehicle's front in any other case.
Required stopping distances – school buses
134(5.1) In a case mentioned in subsection (2) or clause (3)(a), the driver of a school bus must stop it at the distance from the railway crossing prescribed in the regulations about school buses made under The Public Schools Act, whether or not

the school in connection with which the school bus is operated is a school to which that Act applies; and
those regulations apply to the school bus in the absence of this subsection.
---
"Don't Pass Law" Violations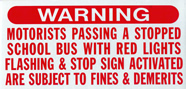 School bus drivers in Manitoba continually experience "don't pass law" violations (motorists who pass a stopped school bus that is loading/unloading students and has its stop arm extended and loading lights flashing). To assist with public awareness of this critical safety concern, the Pupil Transportation Unit developed a decal (shown at the right) warning against passing a stopped school bus. The decal is approximately 6" x 12" in size and is printed on reflective, adhesive sheeting. The decal can be found on most Manitoba school buses in the lower portion of the rear window on the side opposite the mandatory railway crossing decal.
IN MANITOBA, IF YOU ARE CONVICTED OF PASSING A STOPPED SCHOOL BUS THAT HAS ITS STOP ARM(S) EXTENDED AND RED LOADING LIGHTS FLASHING, YOU COULD FACE A FINE OF $673.65 AND DEMERITS!!
---
Seat Belts on School Buses
Manitoba's position with regard to seat belts on school buses mirrors that of Transport Canada and the United States' National Highway Traffic Safety Administration (NHTSA). In the past number of years, these two organizations have conducted extensive testing with regard to seat belts on school buses. Each organization has concluded that "compartmentalization" is the safest concept for children riding school buses. Their conclusions were based on the following research and results…
School buses must accommodate physical sizes ranging from very young children to adults. In some cases, three children use one seat on one trip and two adults on another. Nor will children always use the same seat. This means that seat belts must be readjusted constantly, and their use monitored. Moreover, unused belts equipped with heavy buckles may pose other hazards. Seat belts are of benefit only if used, properly fitted, and correctly adjusted.
Faced with these difficulties, Transport Canada opted for standards requiring greater structural integrity, thus providing a stronger bus body, and for a form of passive protection by mandating stronger seats with higher backs and energy-absorbing padding.
This high padded seat back passive restraint system is know as "compartmentalization". Canadian Motor Vehicle Safety Standards require all school buses to be designed with the compartmentalization concept. During the 1980's, Transport Canada conducted a school bus collision test to determine the effectiveness of lap belts in school buses. Crash test dummies were located in a school bus - some secured with lap belts, others with no restraints. The school bus was crashed into a concrete abutment at 30 kilometers per hour. The results showed that the belted dummies sustained extremely high levels of injury to the head and neck area due to pivoting at the waist during the crash which caused the heads of the belted dummies to contact the seat backs located directly in front of them. These forces to the head were measured and considered fatal. The unbelted dummies, however, contacted the seat backs in front of them with their knees, arms, chest, shoulders, and heads thus spreading the contact area and lessening the forces to one particular point of the body. The information obtained from the crash test prompted Transport Canada to conclude that lap belts should not be used in school buses.
Seat belt use on school buses is addressed on Transport Canada's website.
In the United States, NHTSA also conducted lap and shoulder belt testing in school buses. The report concluded that while lap and shoulder belts provide additional occupant restraint in school buses, installation of the belts would decrease school bus passenger capacity by one-third. Since school buses are eight times safer than any other vehicle, NHTSA is reluctant to reduce current school bus ridership and expose more students to alternative, and less safe, means of transportation.
With this in mind, NHTSA's position is to look at enhancing the compartmentalization concept by increasing seat back height and installing additional padding.
Seat belt use on school buses is addressed on NHTSA's website.
---
Anchorages for Child Seat Restraints
Canadian Motor Vehicle Safety Standards (CMVSS) 210.1 and 210.2 – Transport Canada amended CMVSS 210 to include a requirement for anchorages for child seat restraints (CRS) in school buses. This requirement became effective April 2007. The Standard was amended as follows:
School buses up to 24 passenger capacity will require 2-CRS anchorage positions or 1-bench seat with 2-positions.
School buses with 25 to 65 passenger capacity will require 4-CRS anchorage positions or 2-bench seats with 2-positions each.
School buses with 66 passenger capacity or more will require 8-CRS anchorage positions or 4-bench seats with 2-positions each.
The CRS school bus seats will need to be spaced at the maximum of 28 inches to accommodate most child car seats.
This Standard applies to new school bus vehicles only.
All school busses will maintain the passive restraint system known as compartmentalization which requires high padded seat backs.
---
Strobe Lights on Manitoba School Buses
In March 2001, a Manitoba school bus travelling in heavy fog was rear-ended by a tanker truck. This accident prompted the Province of Manitoba to study whether strobe lights on school bus vehicles could be effective tools in preventing similar accidents. Two years of study determined that a roof-mounted, white strobe light with a light intensity not exceeding 18 joules could effectively enhance the conspicuity of the school bus vehicle.
While not a requirement under The Public Schools Act, most school buses in Manitoba are now equipped with strobe lights. The Highway Traffic Act requires that these vehicles hold a Special Lighting Permit. This permit can be obtained through Vehicle Standards and Inspections, Manitoba Public Insurance. Call 204-985-0920.
The results of the Manitoba study prompted the Canadian Standards Association to incorporate a clause for strobe lights in its D250 School Buses Standard.
Contact PTU for additional information on strobe lights.
---
Weather Radios
Another tool Manitoba has adopted to increase the safe transport of students is the acquisition of weather radios. See the press release for more information.
---