Focus on the Future
Career Planning Begins at Home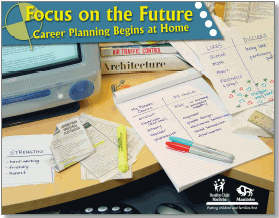 This document and specific sections are available for download as PDF

files .
Full Document (3.0 MB)
Specific Sections of the Document
Cover Page (221 KB)
ISBN, Acknowledgements, Contents (190 KB)
Purpose of the Handbook (180 KB)
High Five Plus One (232 KB)
Definiton of Terms (232 KB)
Talking about Career Planning ( 270 KB)
What Do Children Know about Their Parents' Life Choices? (216 KB)
What Life Skills Will My Child Need for Effective Career Planning? (70 KB)
What Special Strengths Does My Child Have? (212 KB)
What Can I Do to Help My Child Understand His/Her Strengths and to Discuss Career Planning? (106 KB)
How Can I Assist My Child in Career Planning? (194 KB)
How Can I Discuss Work Preferences with My Child? (70 KB)
Now That We Have Done All This Work, What Next? (95 KB)
Investing in My Child's Future Education (217 KB)
Life/Work Road Is Not Always a Straight Line (170 KB)
The Road Ahead (203 KB)
My Goal Map Activity (403 KB)
Personal Goal-Setting Activity (124 KB)
Appendix (101 KB)
References (78 KB)
Feedback Form (

47 KB)
Manitoba Education welcomes your response to this document and invites your feedback.