Education and Early Childhood Learning
Social Studies
Grade 11 History of Canada (30F)
The Grade 11 History of Canada (30F) curriculum supports citizenship as a core concept and engages students in historical inquiry. Guided by Essential Questions, students focus on the history of Canada from pre-Contact times to the present. Through this process students think historically and acquire Enduring Understandings related to the following five themes in Canadian history:
First Nations, Métis, and Inuit Peoples
French-English Duality
Identity, Diversity, and Citizenship
Governance and Economics
Canada and the World
Historical Thinking Concepts and Skills, based on the work of Dr. Peter Seixas of the University of British Columbia, are embedded throughout the curriculum and provide a foundation for historical inquiry.
Grade 11 History of Canada Framework Chart (

1.16 MB)
---
Grade 11 History of Canada: A Foundation for Implementation
This document and specific sections are available for download as PDF

files.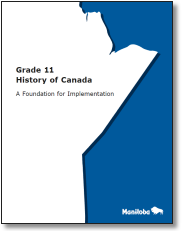 Full Document (9.54 MB)
Specific Sections of the Document:
Student Text, Teacher's Guide, and Other Resources to Support the Curriculum
Shaping Canada is the student text (and corresponding teacher's resource) created specifically for this curriculum. Manitoba Education and Early Childhood Learning has also created a poster that graphically displays the curriculum components of the Grade 11 History of Canada course, including the Enduring Understandings, Essential Questions, and Historical Thinking Concepts. Copies of the poster were delivered to Manitoba high schools in June 2011.
Grade 11 History of Canada Poster (

3.89 MB)
---