Education and Early Childhood Learning
Science
Life is a Gift: A Manitoba Grade 11 Biology Resource for Organ Donation and Transplantation
An online version of this resource for teachers is also available at the Transplant Manitoba – Gift of Life Program website.
This document and specific sections are available for download as PDF files .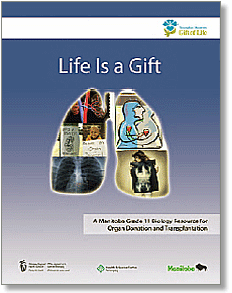 Entire Document (

7.6 MB)
Specific Sections of the Document
Cover Page (166 KB)
Title (24 KB)
Acknowledgements (155 KB)
Contents (29 KB)
Introduction (43 KB)
Specific Learning Outcomes (221KB)

Bibliography (68 KB)
Back Cover (17 KB)

Manitoba Education welcomes your response to this document and invites you to complete and return this
feedback form
(

40 KB)
.
---