Education and Early Childhood Learning
Science
Grade 11 Biology
A Foundation for Implementation
Print copies are available for purchase from the Manitoba Learning Resource Centre, stock number 80501.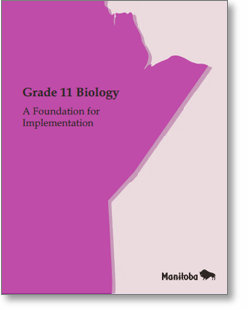 This document and specific sections are available for download as PDF files

.
Entire Document (5.98 MB)
Specific Sections of the Document:
Feedback Form
(

47 KB)

Manitoba Education and Early Childhood Learning welcomes your response to this document and invites your feedback.
---