Career Development
Welcome!
The new realities of the contemporary workplace and the contemporary worker have changed our perception and use of the concept of career.
Career development is now viewed as complex and multidimensional, involving growing through life and work - an interweaving of learning, experiencing, living, working, changing, and identifying and discovering pathways.
Thus career development can be seen as the creation of an individual's life/work designs.
---
What's New!
Career Education – Courses and Credits
---
Safety Preparation for Student Career Learning and Work Experiences
---
Career Development Education
Career Development Education Chart (

98 KB)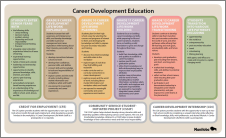 The vision and mission of Manitoba Education's Career Development Education emphasizes a k-12 and Beyond High School Graduation Framework which seamlessly provides all students with career experiences to ensure they understand the relevance of their education and the link to knowledge acquisition, skill development and tools for transition. Manitoba Education offers several current and relevant 21st century career experiences, courses and credits. This chart serves as a framework document to visually depict and emphasize students developmental career/life planning journey highlighting the career learning opportunities available to all Manitoba students based on the Stages of Career Development to supplement Manitoba Education career education opportunities.
---
Take Our Kids to Work Day™ (TOKTW)
SAVE THE DATE – Wednesday, November 4, 2020
Take Our Kids to Work™ invites students in Grade 9 to spend a day at work with a parent, relative, or volunteer host to help them learn about today's workplace, be enlightened on the diversity of roles and tasks, participate in experiential career learning opportunities, explore possible future career options, and apply their the TOKTW experiences to their learning and their future. For more information, please contact the Provincial Coordinator Ruth Stargardter.

---