Annual Report 2018-2019
This Annual Report is organized in accordance with the appropriation structure for Manitoba Education and Training. The report includes information at the main and sub-appropriation levels relating to the Department's objectives, and actual results achieved. Financial performance information is provided with expenditure and revenue variance explanations, and a five-year adjusted historical table of staffing and expenditures.
This report and specific sections are available for download as PDF

files.
Education and Training Annual Report 2018-2019 (1.36 MB)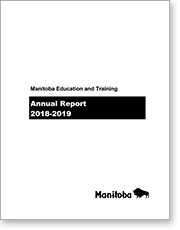 Specific Sections:
Table of Contents (67 KB)
Preface (109 KB)
Organizational Chart (74 KB)
Part A (539 KB)
Part B (378 KB)
Appendices (171 KB)