Aboriginal Academic Achievement (AAA) Grant
The Aboriginal Academic Achievement (AAA) Grant is an important component of the Indigenous Education priority for Manitoba Education and Training. The grant is a supplemental fund provided to assist school divisions with current programming and the implementation of new programs that target academic success for Indigenous students. This grant is administered by the Indigenous Inclusion Directorate and is included in the school division planning and reporting process. Each school division must submit an AAA report and plan by October 31 annually. The plan must focus on strategies which result in measurable increases in Aboriginal student achievement, particularly related to literacy and numeracy for a minimum of 50% of the grant allocation. The remainder of the grant, if any, can be used to support educationally and culturally relevant programming.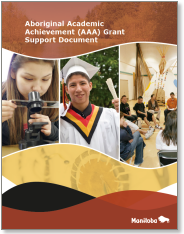 Aboriginal Academic Achievement (AAA) Grant Support Document (

1.53 MB)
This support document provides information to assist school divisions with developing AAA plans and measuring outcomes of programming that is focused on First Nations, Métis, and Inuit students' academic achievement.
For further information or comments please contact:
Gerri Crilly
Aboriginal Academic Achievement Consultant
Indigenous Inclusion Directorate
Manitoba Education and Training
Murdo Scribe Centre, 510 Selkirk Avenue
Winnipeg, Manitoba R2W 2M7
Phone: 204-945-7888
Toll Free: 1-800-282-8069 Ext 7888
Fax: 204-948-2010
Email: gerri.crilly@gov.mb.ca
---
Funding Guidelines
AAA Grant funding guidelines are referenced in the Funding of Schools document.
---
Planning and Reporting Process
Information about the current planning and reporting process for the AAA Grant is available on the School and School Division Reporting and Planning website.
Resources
---
It's Our Time: First Nations Education Tool Kit Teacher's Guide
Creating Racism-Free Schools through Critical/Courageous Conversations on Race
Critical/Courageous Conversations on Race: What your child is learning at school and how you can help
Assembly of First Nations Education Resource Tool Kit
Aboriginal Academic Achievement Grant Review – Highlights of the Regional Discussion Sessions (

240 KB)
First Nation, Métis and Inuit Education Policy Framework 2015 (DRAFT)
Aboriginal Identity Declaration
Aboriginal Education and Employment Action Plan 2008-2011
Helping Your Child Succeed in School: A Guide for Parents and Families of Aboriginal Students
Western and Northern Canadian Protocol (WNCP) Common Tools for Assessing and Validating Teaching and Learning Resources for Cultural Appropriateness and Historical Accuracy of First Nations, Métis and Inuit Content (

3.29 MB)
Integrating Aboriginal Perspectives into Curricula: A Resource for Curriculum Developers, Teachers, and Administrators
Kindergarten to Grade 12 Aboriginal Languages and Cultures: Manitoba Curriculum Framework of Outcomes
Grade 12 Current Topics in First Nations, Metis and Inuit Studies – A Foundation for Implementation
From Apology to Reconciliation: Residential School Survivors – A Resource for Grades 9 and 11 Social Studies in Manitoba
Smudging Protocol and Guidelines for School Divisions
Residential Schools Bibliography (

59 KB)
The Languages We Speak: Aboriginal Learners and English as an Additional Language: A Literature Review of Promising Approaches and Practices
---