Education and Early Childhood Learning
Me Read? No, Way!
A practical guide to improving boys' literacy skills
This document is available for download as PDF

files.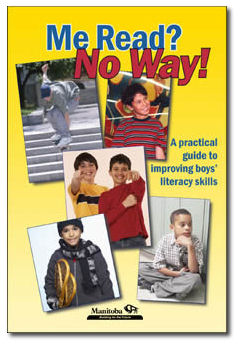 Full Document (819 KB)
This guide is to support student success in literacy. Based on an international review of effective practices, the guide is intended to stimulate discussion of this important issue among educators in Manitoba and to provide practical and effective strategies that teachers across the province can put to use in the classroom, both immediately and over the longer term.
Document Sections:
Cover (227 KB)
Contents (57 KB)
About This Guide (84 KB)
Why Boys? (88KB)
Strategies for Success (593 KB)
References and Resources (82 KB)
Feedback Form
(

47 KB)

Manitoba Education and Early Childhood Learning welcomes your response to this document and invites your feedback.