Education and Early Childhood Learning
Supporting Inclusive Schools
Addressing the Needs of Students with Learning Disabilities
This document and specific sections are available for download as PDF

files.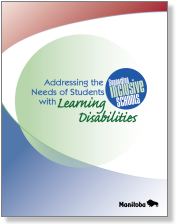 Supporting Inclusive Schools: Addressing the Needs of Students with Learning Disabilities (1.70 MB)
This resource is intended to support educators as they work with students with learning disabilities within inclusive classrooms and schools.
Specific sections of the document:
Feedback Form (

130 KB)
Manitoba Education and Early Childhood Learning welcomes your response to this document and invites your feedback.