Helping Your Child Learn Math
A Parent's Guide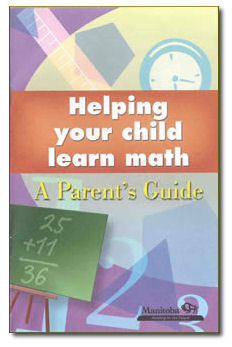 This document is available for download as PDF

files.
Helping your child learn math: A Parent's Guide (582 KB)
This parent guide identifies important steps in developing numeracy skills and suggests activities parents and children can engage in to help build a foundation for mathematics.
2004
(ISBN 0-7711-3207-7)
This booklet may be ordered from the Manitoba Learning Resource Centre (formerly the Manitoba Text Book Bureau), stock # 80448.
Related document:
Helping Your Child Learn to Read: A Parent's Guide
Feedback Form
(

47 KB)

Manitoba Education welcomes your response to this document and invites your feedback.