Education and Early Childhood Learning
Survey of 1998 and 1999 Manitoba French Immersion Graduates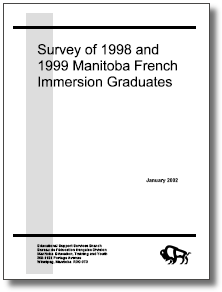 These documents are available for download as PDF

files.
Survey of 1998 and 1999 Manitoba French Immersion Graduates (1.2 MB)
In February 1991, the Bureau de l'éducation française Division (BEF), in collaboration with the Planning, Research and Policy Co-ordination Branch, published a study on French Immersion graduates.
Ten years after the first study, the BEF thought it was important once again to ask French Immersion graduates what they had to say about their years in Immersion.
French Immersion Graduate Follow-Up Survey (75 KB)
A French version of these documents is also available.