Education and Early Childhood Learning
Integrating Culture in Classrooms and School Life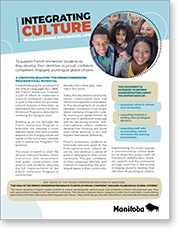 Integrating Culture in Classrooms and School Life (

1,1 MB)
Insert (

120 KB)
Culture plays an important role in the development of French Immersion students' identity. It can be broken down into cultural references ― i.e., things that are important to a group and together form a culture:
Public figures and characters, in all spheres
Achievements and works, such as creations, discoveries, and productions, in all spheres
Traditions, lifestyles, and social mores like customs, practices, and habits
Linguistic, historic, and contemporary heritage
Institutions and organizations serving the community
Legislation that had an impact on the community's development
Demonstrations and gatherings of significance to the group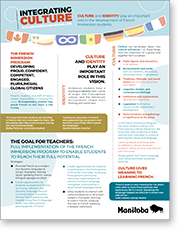 The brochure and insert are intended to inform administrators about the importance of:
promoting culture in schools and communities
supporting students in building their plurilingual identities
supporting staff with incorporating cultural references into the learning environment
Throughout the year, the Bureau de l'éducation française (BEF) offers professional learning sessions for teachers on cultural references and how to incorporate these concepts in the classroom and school. For more information, please contact the BEF at bef@gov.mb.ca or at 204-945-6916 or toll-free at 1-800-282-8069, extension 6916.
---