Social Studies
St. Laurent: A Métis Community; Saint-Laurent, une communauté métisse
Teacher's Guide
This document and specific sections are available for download as PDF

files.
St. Laurent: A Métis Community; Saint-Laurent, une communauté métisse: Teacher's Guide (2.2 MB)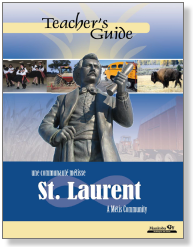 The Teacher's Guide package is designed to support the implementation of the Grade 4 social studies curriculum, with specific links to Cluster 3: Living in Manitoba and Cluster 4: History of Manitoba.
Specific Sections of the Teacher's Guide
What's in the Video?
When this resource was first published, it included a DVD. The video from that DVD has been republished online.
Presented through a series of voice-overs and interviews, the video weaves together an engaging story of St. Laurent's history and contemporary life. You will note that in its exploration of the Métis community, the video calls upon oral accounts of events from the past. This emphasis provides teachers with the opportunity to help students understand that oral history is one of a number of ways in which history is conveyed. Specific learning outcomes in the social studies curriculum related to oral history also support this approach.
---