Social Studies
Louis Riel Day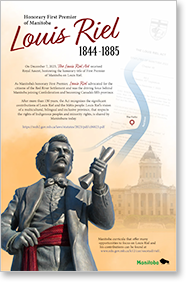 Poster
Louis Riel was a passionate Métis leader. He was the driving force behind Manitoba becoming Canada's fifth province and joining confederation. Louis Riel's dream of a province that embraces all cultures is still shared by Manitobans today.
Manitoba Education is pleased to provide you with this Louis Riel poster. This poster, which is suitable for classroom use, has been designed for educators who want to help their students commemorate Louis Riel's achievements and learn more about his role in Manitoba's history.
Poster (

810 KB)
---
Celebrate Louis Riel Day!
Following are some suggestions on how you can celebrate Louis Riel Day in your classroom:
Read books and conduct research online
Create and display artwork
Dance, sing, or listen to the music of the time
Perform or attend a play about Louis Riel
Hold an assembly or participate in a community event
Present papers and debate issues
Map Louis Riel's travels
Develop timelines of events
Tour historic sites and museums
Explore your own ideas
---
Bibliography
Louis Riel and the Métis People (

175 KB)
This bibliography lists books, DVDs, videocassettes, other audiovisual resources, and websites that will assist educators in promoting an awareness of the importance of Louis Riel and the Métis people to Manitoba culture and history.
---
Social Studies Outcomes
Curriculum in Manitoba offers many opportunities to focus on Louis Riel and his significance in Manitoba History. Social studies, English language arts, and the arts (art, music, drama and dance) are particularly suited to engaging in learning about the Father of Manitoba. Listed are specific learning outcomes for social studies that relate to teaching about Louis Riel, or related history.
---
Archives of Manitoba and Legislative Library — Selected Manitoba Resources
Much can be learned about Louis Riel and his role in Canadian history through the original records held at the Archives of Manitoba and publications held by the Manitoba Legislative Library.
More information is available on the Manitoba Archives website or by contacting their office at 204-945-3971.
---