Education and Early Childhood Learning
Mathematics
Grade 1 Mathematics
Support Document for Teachers
This document and specific sections are available for download as PDF files

.
Grade 1 Mathematics: Support Document for Teachers (2.36 MB)
Blackline Masters
(Available in Adobe PDF and MS-Word)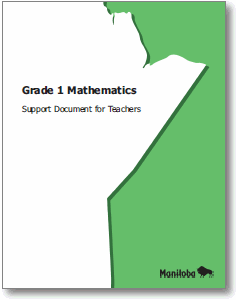 This document provides various instructional activities, assessment strategies, and learning resources meant to promote the meaningful engagement of math learners. It is meant to be used as an aid to teachers as they work with students in achieving the prescribed outcomes and achievement indicators as outlined in the Kindergarten to Grade 8 Mathematics: Manitoba Curriculum Framework of Outcomes.
Document Sections:
---