Education and Early Childhood Learning
Mathematics
Kindergarten to Grade 8 Mathematics
Manitoba Curriculum Framework of Outcomes 2013
This document and specific sections are available for download as PDF files

.
Full Document (1.69 MB)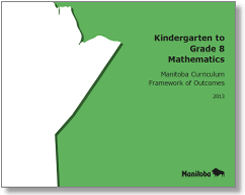 As part of ongoing efforts to improve the quality of mathematics education in the province, Manitoba Education and Early Childhood Learning has worked with educational partners to make revisions to the Kindergarten to Grade 8 mathematics curriculum to reinforce the importance of conceptual understanding, procedural thinking, and problem solving, and to clarify grade-level expectations.
System-wide implementation of this curriculum begins in September 2013 and replaces the 2008 K-8 Mathematics curriculum.
This document was based on the 2008 WNCP mathematics curriculum that was developed by the seven ministries of education in collaboration with teachers, administrators, parents, business representatives, post-secondary educators, and others. The framework identifies beliefs about mathematics, general and specific learning outcomes, and achievement indicators agreed upon by the seven jurisdictions.
Document Sections:
---
For further information or comments, please contact:
Sherry Perih
Mathematics Consultant (K-4)

1567 Dublin Avenue
Winnipeg, MB R3E 3J5
Telephone: 204-945-1752
Toll free: 1-800-282-8069, ext. 1752
Fax: 204-945-1704
Email:
sherry.perih@gov.mb.ca
---