Community Schools Program
The Community Schools Program Report
October 2014 to December 2018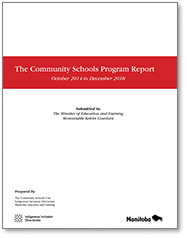 Report (

272 KB)
As one of The Community Schools Act's legislative requirements, The Community Schools Unit is required to prepare a report on CSP activities, including:
a summary of consultations carried out by the unit
a summary of the performance of the program with reference to the measures established by the unit
This report fulfills the reporting requirements of the legislation. It covers the Community Schools Unit's operation from October 2014 to October 2018. It builds on an earlier report covering CSP activities from October 2014 to October 2015.
---