Module 3: Valuing Community and Diversity
Module 3 of the Community and Diversity interdisciplinary unit focuses on the environmental and cultural diversity of Manitoba. Investigating the snakes of Narcisse and the tall grass prairie enables students to explore habitats and the impact of humans on the environment, the influence of technology, and steps for conservation. Students also collaborate to study the cultural communities of Manitoba, and how diversity is respected and celebrated.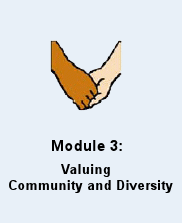 Concept Map (91 KB)
This section of the document is available for download as PDF files

.
Module 3: Valuing Community and Diversity
List of TBLMs and BLMs (15 KB)