School Leaders' Guide to Early Years Curricula
This document and specific sections are available for download as PDF

files.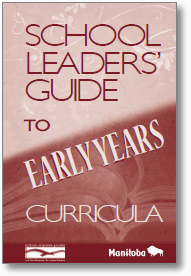 Full Document (1.13 MB)
This concise guide to the curricula provides school leaders with a quick overview or summary of curricular information and outcomes. This information can be used as a springboard for curriculum-related discussions, but it is not intended to provide an in-depth view of any curricula.
This guide to curricula is intended primarily for use by school leaders, but other professionals may also find it useful.
Specific sections of the document:
Cover Page (114 KB)
Title Page and ISBN Page (65 KB)
Contents (66 KB)
Introduction (120 KB)
Compulsory Subject Areas (785 KB)
Optional Subject Areas (232 KB)
Elements Integrated Into The Curriculum (289 KB)