Education and Early Childhood Learning
Focus on the Future
Your Grad Planner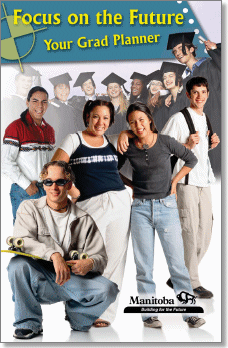 This document and specific sections are available for download as PDF

files.
Full Document (4.04 MB)
This document will help students gain an understanding of the requirements for high school graduation, career planning and paying for their future education.
Specific Sections of the Document
Cover Page (165 KB)
ISBN, Acknowledgements (144 KB)
Contents (163 KB)
Section 1: High School: Your Next Step toward Graduation (322 KB)
Section 2: How Do You Earn Credits toward Graduation? (380 KB)
Section 3: What Do You Want to Do after Graduation? (457 KB)
Section 4: How Will You Pay for Your Education after High School? (391 KB)
Section 5: What Can You Do Now? (403 KB)
Resources (364 KB)
Feedback Form (

47 KB)
Manitoba Education welcomes your response to this document and invites your feedback.