S3 & S4 Physical Education/Health Education Consultation
This document and specific sections are available for download as PDF

files.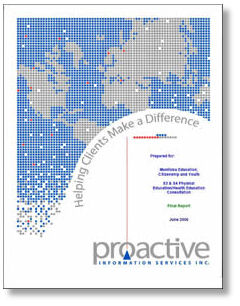 Full Document (1.5 MB)
During the months of April and May 2006 Manitoba Education, Citizenship and Youth undertook five consultations. Information resulting from the consultations was to be utilized in outlining a framework "for the development of S3 and S4 PE/HE curriculum in Manitoba Schools.
Document Sections:
Cover (535 KB)
Table of Contents (99 KB)
Main Content (486 KB)
Appendices (654 KB)

Feedback Form (

47 KB)
Manitoba Education welcomes your response to this document and invites your feedback.