Education and Early Childhood Learning
Lead the Way with ELA
A Parent Report on What's New in English Language Arts
This document and specific sections are available for download as PDF

files.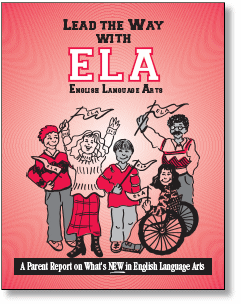 Entire Document (785 KB)
Une version pour l'immersion française est disponible.

A French Immersion version is also available.
Specific Sections:
Cover Page (120 KB)
Letter To Parents (63 KB)
Pages 1-4 (208 KB)
Why new ELA curriculum?
The Language Arts Are ...
Building The Team For The 21st Century
What are student learning outcomes?
Pages 5-8 (303 KB)
A Representative Sample Of ELA Outcomes
Together Everyone Achieves More
How can you support your child in school?
Pages 9-13 (198 KB)
Learning Links
What will students learn in English Language Arts?
What might you expect to see in an English Language Arts class?
Why new ELA curriculum?
Back Cover (105 KB)