Education and Early Childhood Learning
Diversity and Equity in Education
An Action Plan for Ethnocultural Equity
(For Consultation October 2003)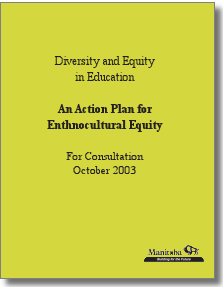 This document is available for download as PDF

files.
Diversity and Equity in Education:
An Action Plan for Ethnocultural Equity (56 KB)
Letter (25 KB)
The Department has developed this consultation document to provide a basis for discussion on the Department's current and future directions concerning diversity and ethnocultural equity. This paper is composed of two parts: the first discusses some important concepts and provides other relevant information; the second proposes a multi-year action plan that would further ethnocultural equity in Manitoba.