Education and Early Childhood Learning
Indigenous Inclusion
Directorate
---
Treaty Education for All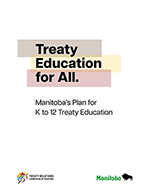 TRCM Letter to Superintendents, Board Chairs and Principals (

223 KB)
Treaty Education for All. Manitoba's Plan for K to 12 Treaty Education (

260 KB)
Treaty Education for All. Manitoba's Plan for K to 12 Treaty Education - Presentation June 2023 (

406 KB)
The Treaty Relations Commission of Manitoba has provided Treaty Education service and supports to schools across all jurisdictions and geographic regions in Manitoba for over a decade.
The goal now is to ensure that all teachers, school staff, and students receive Treaty Education to understand the importance of the original spirit and intent of treaties and the treaty relationship by balancing the oral history with the written word, including an understanding of our shared history, as we are all treaty people. This work supports Manitoba's response to the Calls to Action of the Truth and Reconciliation Commission and is aligned with Manitoba's The Path to Reconciliation Act.
To ensure that we achieve our collective goal of Treaty Education for All, a steering committee was relaunched in July 2022. This committee is working together, in partnership with the Treaty Relations Commission of Manitoba; Elders, Grandmothers, Knowledge Keepers; Manitoba Education and Early Childhood Learning; Manitoba First Nations Education Resource Centre; The Manitoba Teachers' Society; Manitoba Association of School Superintendents; Manitoba Federation of Independent Schools; and the Indigenous Inclusion Directorate Advisory Council.
The steering committee has established Treaty Education for All: Manitoba's Plan for K to 12 Treaty Education which identifies five strategies to ensure success:
Providing Treaty Education to School Leaders
Delivering Treaty Education to our Teachers and School Staff
Supporting School Division/District Implementation through Catalyst Teachers and Learning Networks
Ensuring Treaty Education for K to 12 Students
Planning with Early Learning and Child Care Partners
---