A Teacher's Guide for the Video Sila Alangotok - Inuit Observations on Climate Change
A Resource for Senior 2 Science
This document and specific sections are available for download as PDF

files.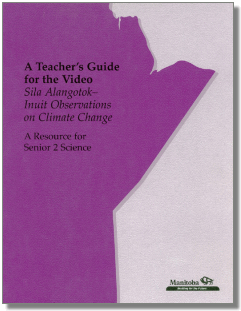 Full Document (321 KB)
Specific sections:
Sila Alangotok-Inuit Observations on Climate Change, a video produced by the International Institute for Sustainable Development is available for dubbing at Instructional Resources (#6422) and for purchase at the MTBB (#9988).
Feedback Form
(

47 KB)

Manitoba Education welcomes your response to this document and invites your feedback.
---