Responding to Religious Diversity in Manitoba's Schools
A Guide for Educators (DRAFT 2015)
Letter to Superintendents of Education (62 KB)
During the fall of 2016, six consultation roundtables will be held for discussions and to gather feedback on this document. To participate, please register by logging into the Workshop Registration System.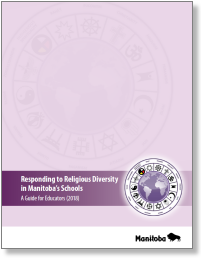 The following document and specific sections are available for download as PDF

files.
Responding to Religious Diversity in Manitoba's Schools (2.75 MB)
This document is intended to serve as a resource for educators and schools seeking to respond to the needs of their religiously diverse students and community. The document provides a guide for welcoming religious diversity and providing accommodations in Manitoba schools.
Specific sections of the document:
Feedback Form (

83 KB)
Manitoba Education and Training welcomes your response to this document and invites your feedback.