Education and Early Childhood Learning
Student Services
Manitoba Speech-Language Pathology Outcomes Measure
Implementation Manual
Increasing demands are being placed on speech-language pathology services in schools and in the community as evident by lengthy waiting lists and large caseload numbers. Speech-language pathology service delivery models vary across Manitoba and across the country. Historically there has not been a consistent national or a provincial system in Manitoba for defining client severity and priority levels nor a consistent way of determining outcomes from intervention.
A need was identified for a consistent method of caseload rating, caseload selection and measurement of outcomes from intervention. Such a mechanism would assist speech-language pathologists in clinical decision making, enhance quality assurance, assist transition planning, and provide consistency among clinicians, school divisions and public agencies.
A project team under the auspices of Manitoba Education and Early Childhood Learning developed a system to define standard severity levels, standard priority rating, and standard treatment outcome measurement.
The project team initially determined that the ASHA Functional Communication Measures provided the best severity rating scale while the Alberta Priority Rating Scale provided the best means of prioritizing individuals. Upon further review it was determined that both of these tools would have to be adapted and revised to better capture functional change, add certain elements important in individual prioritization and redefine terms to better reflect service delivery models.
The final system developed was unique in that an intersectoral team representing speech-language pathologists from a number of different settings, mandates and service delivery models worked to create a system that transcends traditional boundaries. The system reflects this uniqueness in that it was designed for individuals from 0 to 21 years of age. The severity rating system was also unique in that it incorporated recent developments in the areas of phonological awareness and word finding into the severity rating scale. These two areas have not been included in other severity rating systems. The priority rating system from Alberta was also adapted to include information from the New Brunswick Priority Rating Scale to make it more functional and include the impact of a disorder on an individual's ability to function at home, school, work, or play.
The manual provided provides detailed information on the development process, specific steps to complete the Treatment Outcome Summary form, and Functional Communitcation Measures.
The sections of this document are available for download as PDF files

.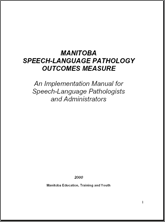 Cover, Acknowledgements and Table of Contents (17 KB)
Recognition of people involved in developing the document, copyright, ISBN number, and the table of contents are identified.
Introduction (12 KB)
The purpose, development process and unique features of the Manitoba Speech-Language Pathology Outcomes Measure are described. (12 KB)
Implementation Manual (60 KB)
Specific steps required to complete the Treatment Outcome Summary form are described. Additionally, this section defines all terms in the manual, provides case studies, trouble-shooting, and a glossary.
Severity Rating: Functional Communication Measures (64 KB)
Specific descriptions of the 12 Functional Communication Measures are provided.
Priority (34 KB)
Specific descriptions of priority elements are provided.
Appendix A: Concomitant Factors (8 KB)
A sample list of potential concomitant factors that may affect an individual are described.
Appendix B: Variables Impacting Outcomes (12 KB)
A sample list of variables that may affect outcomes positively or negatively are described.
---