Education and Early Childhood Learning
Student Services
Towards Inclusion
A Handbook for Modified Course Designation, Senior Years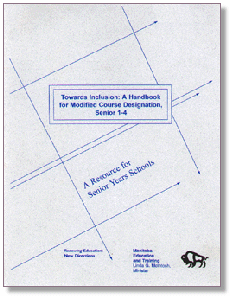 Complete Document (

189 KB)
This handbook provides information about implementing inclusive educational opportunities for Senior Years students with significant cognitive disabilities through curriculum modifications. The Modified (M) course designation is to be applied on an individual course basis to those courses developed or approved by Manitoba Education and Early Childhood Learning that are modified specifically for students with significant cognitive disabilities. It is not to be applied globally to a full year of study.
This handbook describes the process of applying the M course designation to department-developed or -approved courses. It suggests mechanisms for identifying students, planning collaboratively for inclusion, and reporting curriculum modifications. Some case studies that illustrate the intended and excluded student population for the M course designation are also appended (see Case Studies).
Towards Inclusion: A Handbook for Modified Course Designation, Senior 1-4 is intended as a resource for including students with significant cognitive disabilities in Senior Years programming. Curriculum modifications are not intended to isolate or exclude students from the benefits of an education.
For further information or assistance in providing professional development opportunities, please contact:
General Enquiries
Inclusion Support Branch
Manitoba Education and Early Childhood Learning
Telephone: 204-945-7907
Toll Free in Manitoba: 1-800-282-8069, ext. 7907
Email: isbinfo@gov.mb.ca

---