Student Services
Towards Inclusion
A Handbook for Individualized Programming Designation, Senior Years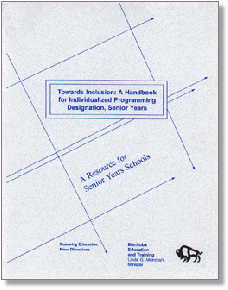 Complete Document (

358 KB)
This handbook provides information about implementing inclusive educational opportunities for Senior Years students who require individualized programming within age-appropriate school and community environments. Their cognitive disabilities are so significant that they are unable to benefit from participating in regular Senior Years programming.
This handbook describes the process of applying the Individualized (I) programming designation. It suggests mechanisms for identifying students, planning collaboratively for inclusion, and reporting individualized programming. Some case studies of individualized programming are appended (see Case Studies).
Towards Inclusion: A Handbook for Individualized Programming Designation, Senior Years is intended as a resource for providing students who require individualized programming with an appropriate education. Individualized programming is not intended to isolate or exclude students from the benefits of an education.
For further information or assistance in providing professional development opportunities, please contact:
General Enquiries
Inclusion Support Branch
Manitoba Education
Telephone: 204-945-7907
Toll Free in Manitoba: 1-800-282-8069, ext. 7907
Email: pssbinfo@gov.mb.ca
---