A Guide to French Immersion Schools in Manitoba
(Revised November 2009)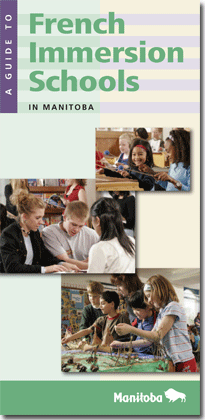 Brochure for print (

783 KB)
In accordance with the provisions of the Statutes of Manitoba – P250 of the Public Schools Act, children have an opportunity to learn both French and English in Manitoba. As of September 2009, approximately 18,500 students in 101 schools were enrolled in the French Immersion Program, one of the four recognized programs of Manitoba Education.
The French Immersion Program, designed for non- Francophones, aims to develop functionally bilingual students who are able to communicate in French and English in personal and professional situations.
In Manitoba, the French Immersion Program is offered in one of two school environments:
the single track model in which the entire student population is enrolled in the French Immersion Program
the dual track model in which both English and French Immersion Programs coexist in the same school
The French Immersion Program has three possible entry points:
Early Immersion – Kindergarten and/or Grade 1 entry
Middle Immersion – Grade 4 entry
Late Immersion – Grade 7 entry
The purpose of this guide is to provide information about the French Immersion Program with respect to school locations, contact information, delivery models, entry points and grade levels.
Please contact school divisions and schools directly in regards to school catchment areas, enrolment procedures and transportation.
For more information or hard copies of the map, please contact:
Sandra Drzystek
Education Officer - French as a Second Language
Bureau de l'éducation française Division
509-1181 Portage Avenue
Winnipeg MB R3G 0T3
Telephone: 204-945-6939
Fax: 204-945-1625
Email: sandra.drzystek@gov.mb.ca
---