Little Earth Charter
The Earth Charter is a set of fundamental principles that seeks to define a just, sustainable and peaceful society for the 21st century. Since its creation in 2000, it has been endorsed by governments, businesses, institutions, world organizations and individuals. The Earth Charter has been embraced by UNESCO as a means of educating the public of the importance of creating a sustainable world. It has as its mission "to establish a sound ethical foundation for the emerging global society…" Thus, the Little Earth Charter's focus is to bring that foundation to children aged 4-8.
The purpose of the Little Earth Charter is to help teachers convey its universal principles to children at an early age, with a view to becoming responsible earth stewards for a sustainable future. The mission of the LEC is to reach as many children as possible, in every region of the planet.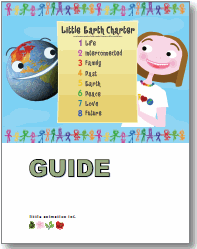 Teacher's Guide (

937 KB)
Feedback Form (

146 KB)
---