Education and Early Childhood Learning

Education for Sustainable Development Grants
For Schools/Educators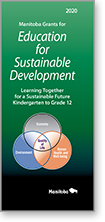 2020 Manitoba Grants for Education for Sustainable Development
Manitoba Education and Early Childhood Learning is continuing to offer Education for Sustainable Development (ESD) Grants to promote sustainability in classrooms. Manitoba Education and Early Childhood Learning wants to support schools in which educators work together to plan and teach ESD. The grants will provide up to $2000 to cover expenses, such as teacher release time, professional development, and teaching/learning resources for sustainability education. Manitoba Education and Early Childhood Learning staff will also provide grant recipients with planning support.

---
For School Divisions
The intent of the Education for Sustainable Development Categorical Grant is to support schools/school divisions in their efforts to incorporate Education for Sustainable Development into all aspects of school division and school activities, operations, and programming.
School Division Planning Template

---
For Students/Schools/Educators
Lake Winnipeg Foundation
The Lake Winnipeg Foundation is a non-profit organization dedicated to the health of Lake Winnipeg and its watershed. As part of their mission to educate Manitobans to the challenges and opportunities of this significant ecosystem, they are pleased to assist teachers in exploring water-related issues pertaining to Lake Winnipeg and its watershed within the science curriculum by subsidizing the cost of transportation and entrance fees for appropriate field trips.
EcoLeague
EcoLeague is a youth empowerment program that challenges and motivates students across the country to help save the planet through community and school-based environmental action projects. Up to $400 in funding is available per school for an Action Project. EcoLeague is a project of Learning for a Sustainable Future.
Caring for Our Watersheds
The Caring for our Watersheds program is sponsored by Agrium. Students are asked to think about their watersheds and how they can protect this most essential asset. Finding solutions is critical, and helping to lead the effort is everyone's obligation.
Forest Enhancement Program
Manitoba Hydro provides opportunities for support through the Forest Enhancement Program and the Environmental Partnership Fund. Funding support is provided to enhance and sustain the forest environment of the communities and regions of Manitoba. Projects that may contribute to addressing the climate change area are of special interest.
ImagineAction - social action and environmental projects for K-12. ImagineAction offers teacher funding, resources and expert help for school-community action projects tied to the ImagineAction themes.
Charity Village Resource
Sources of Funding

Evergreen Foundation
Grants available - find out which grant program is right for your project.
Federal Government
Environment Canada - Funding Programs
Winnipeg Foundation
Your Centre for Community Philanthropy
Manitoba Climate Change
Funding summary for schools

---