Information for Parents Brochures
Education for Sustainable Development (ESD) is a priority for Manitoba Education as educators, schools, and school divisions are realizing the importance of promoting sustainable living with the students.
Manitoba Education is pleased to present an Early Years ESD brochure and a Middle and Senior Years ESD brochure for parents highlighting sustainable development outcomes and underlying themes at each grade level. These have been developed to encourage parents to enter into a conversation about sustainable living with their children. Each brochure has images and a declaration for sustainable living that corresponds to the student poster that has been created for the classroom. Each school has been supplied enough brochures for every child to take home.
Early Years
Kindergarten to Grade 4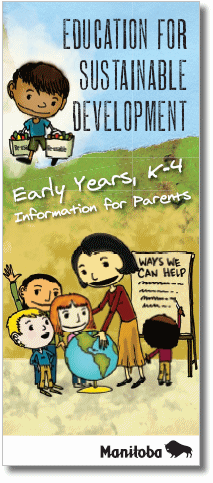 Kindergarten to Grade 4 Parent
Brochure (

1.08 MB)
Middle and Senior Years
Grades 5 to 12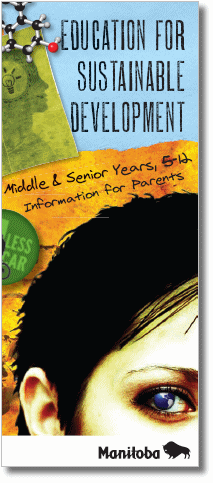 Grades 5 to 12 Parent
Brochure (

1.27 MB)
You may order additional copies of this brochure (MTBB Stock #80589) from:
Manitoba Learning Resource Centre
P.O. Box 910
Souris MB R0K 2C0
Toll-Free: 1-866-771-6822
Fax: 204-483-5041
Inquiries relating to the content of the brochure may be directed to:
Michelene Reiniger
Science Consultant
Phone: 204-945-7899
Toll Free: 1-800-282-8069, ext. 7899
Email: michelene.reiniger@gov.mb.ca
---