Education and Early Childhood Learning
Manitoba School Divisions/Districts Boundaries Review Commissions: Final Report
November 1994
Photographs are not available in the online version of this document.
The PDF files for this report are large and may take some time to download.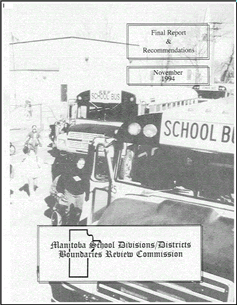 This document and specific sections are available for download as PDF

files.
Final Report (37.4 MB)
Supplementary Review and Recommendations, November 1995 (3.6 MB)
Cover Page(364 KB)
ISBN (42 KB)
Conveyance Letter (110 KB)
Acknowledgements(243 KB)
The Commission (66 KB)
Table of Contents (513 KB)
Introduction (1 MB)
Boundaries - Theory and History (1.7 MB)
Elsewhere in Canada (1.2 MB)
What's Working Well?/Concerns Heard by the Commission (499 KB)
Issues for Consideration:
Future Educational and Financial Implications of Change (2.7 MB)
Recommendations (A. to I.) (1.2 MB)
Recommendations (J.) (3.3 MB)
Recommendations (K.) (4.2 MB)
Implementation Plan (527 KB)
Epilogue (121 KB)
Appendices (1.9 MB)
A French version of this document is also available.