School Attendance in Manitoba Report
Manitoba Education published the School Attendance in Manitoba Report in June 2009. The research outlined recommendations to address issue related to student attendance.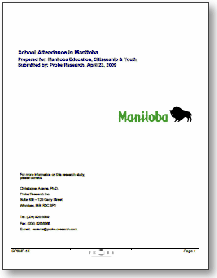 Manitoba Education engaged Probe Research Inc to explore issues related to school attendance in Manitoba. Research included a number of methodological components: secondary research, consultations with internal and external stakeholders, executive interviews with educators and community stakeholders, and a publicly accessible website survey. In response to this report a working group was established Fall 2009.
Executive Summary (

115 KB)
Final Report (

842 KB)
General Enquiries
Program and Student Services
Manitoba Education and Training
Telephone: 204-945-7907
Toll Free in Manitoba: 1-800-282-8069, ext. 7907
Email: pssbinfo@gov.mb.ca